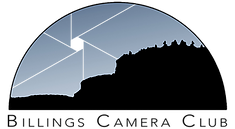 Billings Camera Club
Billings, MT
40 Members
The Billings Camera Club is the oldest club of its kind in Yellowstone County. Since 1947 the BCC has supported amateur and professional photographers in their quest to create art with the capture of light.
Our goal is to build skills through education, workshops, field trips, and competitions, to create incentives to shoot subjects new to you, and to foster new friendships.
INTERESTED?   Great!  Come to our next meeting and check it out. Everyone is welcome--introduce yourself ! Our meetings might include informative discussions by guest lecturers or fellow club members on subjects ranging from equipment, framing, lighting, and composition, to mastering post-processing software such as Photoshop and Lightroom, digital printing and more. Or see the results of in-club and national competitions, or enjoy evenings of show and tell. 
DUES  this year are $15 per person
Click HERE  to pay online
Events
Oct 12, 2021 7 pm
Contests
Galleries
Minutes from June Meeting
Billings Camera Club Minutes- June 1, 2021
This meeting was conducted via ZOOM due to the COVID-19 pandemic and social distancing requirements.
The meeting was called to order by Bob Ruble and Diane Erhart at 7:06 PM. There were 15 participants.
New Business:
New changes for next year include the addition of monthly galleries for members to post new images that they are pleased with or want help with. The new gallery will be put up the day after the monthly meeting for the next month. This will begin in September. There are no specific topics or judging- just "My Favorite Images"- start with 5 per member. Depending on the website storage capacity, these galleries may remain posted for a while or may need to be replaced with the next month's gallery.
There will be a gallery for "What I did Last Summer" to share images that members make over the next 3 months.
For contests, there will be two divisions: Novice/Intermediate and Advanced. There will also be a Critique only category. Each person can choose their own division. The Critique only category will have comments given from other club members but will not be judged or have scores assigned. As members become more proficient and win in the Beg/Int category, they will be moved up into the Advanced division. When this happens will be decided on as we go. Members can enter images into the contest as well as the Critique only. Hopefully this will encourage more members to participate. At the end of the year, there will be a Photographer of the Year for each level.
Contest Results:
Results of the 'White on White' competition were revealed. This was judged by one person from the PSA. There were 21 entries.
Marble and Dried Paint- Dennis Hirning- HM
Delicate in White- Fran Nunn- HM
Showy Plumage- Diane Erhart- HM
A Beautiful Bird- Larry Robson- 3rd place
Toby- Bob Ruble- 2nd place
White Caps- Carolyn Jones- 1st place
Congratulations!
Educational presentation: We watched a video presentation on Minimalism in Photography by Judy Hancock. Some ideas from this:
Capture the feeling of your subject, the essence.
What are you drawn to? Pay attention to specifics of what speaks to you- with or without your camera (for inspiration).
3 rules- Simplify-Simplify-Simplify
Resources: minimalistphotography.com; michaelkenna.com
Educational topics suggested for next year:
Night photography
Black & White
Impressionistic techniques
Macro
If you have any topics that you would like to see presented, please contact a Board member or put a message on the website.
Contest topics for next year for you to work on:
Days Gone By
Inside the Flower
Symmetry
Minimalist photography
All photos, scores and comments for this contest can be seen on the website for Billings Camera Club (on MyCameraClub)
Upcoming Events:
There will be a Bird Photography outing with Patrick McDonald at Shiloh Ponds (across from Scheel's) on Saturday, June 12 at 8 am. If you want to be there earlier and want his help, please contact Patrick.
The next meeting will be in September.
This meeting was adjourned at 8:46pm.
HAVE A GREAT SUMMER!
Respectfully submitted,
Fran Nunn, Secretary
Contest topics for 2021-22
Club competition topics for 2021-22
---------------------
Inside the Flower - Due Oct 1
Symmetry - Due Dec 1
Days Gone By - Due Feb 1
Minimalist photography - Due Apr 1
Each of these will be judged in three categories: Intermediate, Advanced, and Critique Only. Your choice. 
Critique Only is like the 3rd Division of each intra-club contest. Those divisions are Advanced, Intermediate and Critique Only. A member can enter 1 or 2 images in either Advanced or Intermediate. In addition, you can enter 1 or 2 images in Critique Only by itself or in addition to one of the other divisions. So it is possible to have 4 photos in the intra-club contests. Critique Only will be judged by the same judge as the Intermediate and Advanced divisions. Images in Critique Only should fit the same topic.