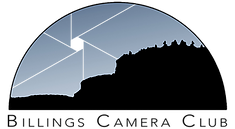 Billings Camera Club
Billings, MT
38 Members
The Billings Camera Club is the oldest club of its kind in Yellowstone County. Since 1947 the BCC has supported amateur and professional photographers in their quest to create art with the capture of light.
Our goal is to build skills through education, workshops, field trips, and competitions, to create incentives to shoot subjects new to you, and to foster new friendships.
INTERESTED?   Great!  Come to our next meeting and check it out. Everyone is welcome--introduce yourself ! Our meetings might include informative discussions by guest lecturers or fellow club members on subjects ranging from equipment, framing, lighting, and composition, to mastering post-processing software such as Photoshop and Lightroom, digital printing and more. Or see the results of in-club and national competitions, or enjoy evenings of show and tell. 
DUES  this year are half-price — $10 for an individual, $15 for a family — in acknowledgement of limitations imposed by the Covid-19 pandemic.
Click HERE  to pay online
Events
May 22, 2021 8 AM
Jun 01, 2021 7 pm
Contests
Galleries