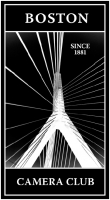 Boston Camera Club
Boston, MA
3 Members
Established in 1881, the Boston Camera Club is a non-profit organization dedicated to the advancement of photography as an art and science.
Club activities are held throughout the year while regular weekly meetings are on Tuesday evenings from September through June at 7pm.
Programs are planned to interest all photographers, from beginners to skilled artisans. Guests and prospective members are welcome at any of the club's meetings.
Club Activity
Sorry, club activity available to club members only.